Locket Cufflinks
Locket cufflinks are the finely-crafted way to keep your loved ones close! These modern cufflinks also allow you to personalize the outside of them with your own personal engraving if you'd like, while you stash up to four pictures of your loved ones safe inside.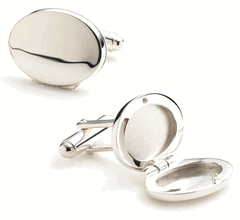 Another really cool feature to locket cufflinks is that you can just snap them shut when you're not looking at your pics anymore, and they simply transform into the sleek and stylish accessory that they are meant to be.
Whenever you are thinking of buying cufflinks don't overlook the fact that they make absolutely unforgettable gifts for dads, granddads, husbands and pretty much any family man.
Lets be really honest here, a man who loves his kids and his wife like none other, still wouldn't even think of wearing a locket necklace! But this great accessory gives those Dads and husbands a stylish way to show off his family, and along with all that, display a bit of style and swagger!