Custom Suits...The ULTIMATE in Quality!
Mens custom suits are the absolute cream of the crop when it comes to mens style, simply the best! We will get into detail, the advantages of the custom suit. But simply put... Having a suit tailored to YOUR unique physique, means a PERFECT FIT for you. Because after all, no one else is like you, nor should they be. Custom made suits feel as comfortable as pajamas, when compared to many off-the-rack suits. And, you don't have to be Brad Pitt to afford it.
Lets go into it a bit, shall we?

First, here are a couple terms we must be familiar with when entering the world of custom mens suits:
MADE TO MEASURE: This just means that your suit is adjusted with your measurements from what is called a "Measurement Block."

BESPOKE SUITS: This means that a tailor will cut and fit a suit according to your specifications, generally by hand. These professionals work wonders, they can literally transform a poor fitting suit into the PERFECT FIT.
SUIT ALTERATIONS: Making changes to an off the rack suit.
---
THE CUSTOM MENS SUIT...
A SEA OF OPTIONS!
In mens clothing, options are
always
a good thing. In the case of custom suits, its a great thing! Do not be intimidated, you will have all the help that you need. A skilled tailor is always very helpful and respectful. They understand that they are at your service and that you may have questions.
When you realize that the power to look TRULY GREAT lies in your hands, WOW, what a thrill! You're on your way to walking life's red carpet with true style and swagger.
Consider your options...
FABRIC CHOICES: With custom made suits, you literally have HUNDREDS of fabric options. Then from the fabric you choose a pattern is made specifically for you.

PERSONAL STYLING: This means so much to many top notch dressers. What do you like on your suits? Deep pleats, triple pleats, flat front pleats? What about a 2,3, or 4-button coat? Want more room around the knees, less in the thighs? What type of cuffs and pockets? It's your world, you make the call. This is only scratching the surface of options available to you. For instance, do you love Armani suits? Have a tailor copy your favorite styles and add your own flair if you'd like.

THE CUT: Might be the most important element of all. Dozens of measurements are taken for your specific body type, and the pattern is made just for you specifically. Custom suits are cut to fit YOUR silhouette perfectly and compliment your style. No fit problems ever!

PRICE RANGE: Find your comfort zone when it comes to pricing, use QUALITY basic materials(fine wool is standard) for your custom suits or literally the finest fabrics known to man. The price range is great, typically you can find a tailor to make your tailored custom suits for anywhere from $600 to $3500. Many of us are looking for mens custom suits for less money, but we want quality. That's why custom suits for men are great, since the best off-the-rack suits can cost as much or more than comparable bespoke custom suits, it is understood that well-made custom bespoke suits are a good investment.
You can also invite in a roving suitmaker like Tom James to help out.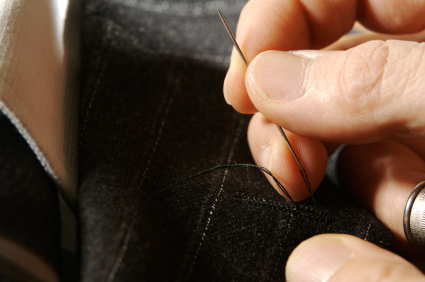 Custom suits can add to your overall level of swagger and take all the worry away from you. You know those lingering thoughts, like... "are my pants flooding, is this jacket too tight, too baggy, is my gut busting out of mens business suits??" The answer will always be "Nope, I'm good, I'm always good."
SO HOW DOES IT FIT YOU?
Simply put, most men would benefit greatly from acquiring some beautifully tailored custom made suits for men. But is that the case with you? As long as you have a firm grasp on what TRULY looks flattering on you, you will be able to distinguish that. Here are a couple questions to ask yourself:
We at
SUIT-SWAGGER.COM
, truly hope we are able to assist you in any way with fashion and custom suits. The world is filled with people who have no clue as to how to dress, we want you to have all the information you need to succeed.