Armani Suits
Armani Suits are an absolute can't-miss addition to a man's business wardrobe and the Armani logo speaks for itself as premiere luxury clothes for men.
Giorgio Armani suits are best recognized by an understated elegance displayed by exceptionally styled suits and formal wear. When you own Armani, you don't exchange for much else.
Donning one of these suits certainly makes a statement because of its clean, refined style and simple lines. The beautiful tailoring of these suits are clearly seen even by the untrained eye.
Italy's premiere fashion designer has made a science of styling stunningly handsome business suits. Giorgio actually created the "power suit" which has been mainstay in business wear for over 25 years.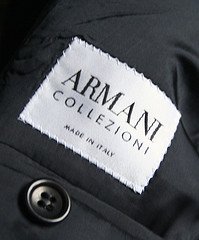 These dashing suits have become synonymous with luxury and red carpet fashion that affords men the opportunity to display their creative side while at the same time looking very professional.
Famous actor and man of swagger, George Clooney has chosen to wear this fine Italian brand on a number of occasions. Clooney is known for his affection of the Armani logo & wearing this luxury clothes brand to show off his physique and personality.
This famous label first gained notoriety after adorning many famous Hollywood stars beginning in the 1980's. In particular, They were the selection of Richard Gere's smooth character in American Gigolo.
Giorgio Armani's work is clean, crisp and truly elegant. So much so that it has changed the look and feel of contemporary fashion in business, entertainment and the fashion industry itself.
You will find that these garments can range in price as low as $500 to as high as thousands of dollars, but when compared to some of the other high-end labels on the market, the cost of Armani clothing is fairly affordable. Making it possible for us all to follow the Armani code!