Mens Dress Hats Are Back!
Until the 1960s mens dress hats had performed the most important role in indicating social distinctions among men. Fedoras, porkpies, homburgs and derbies were worn by all.
Everyone from the most admired movie stars and singers to the most notorious gangsters styled various dress hats regularly. Well in today's fashion conscious world, felt hats in general are being revived. Everywhere, from the fashion spreads of GQ magazine to guys walking the mall. Thanks to shows like "Mad Men," the hat is back in style in a major way.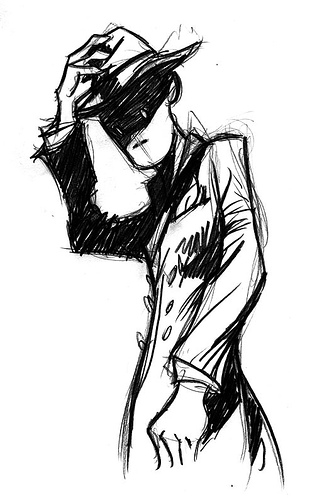 Mens dress hats can add an exclamation point to an already superb ensemble, and add a dash of swagger. Dress hats aren't only stylish and smart, but functional as well. If you have fair skin or live in a sunny environment, you can protect your skin. If you live in a cold climate, be aware that your body loses 70% of its heat through your head.
If you've never worn a dress hat, look around. Hats of all different kinds can be found just about anywhere, and they look great!
Mens dress hats are available in lots of different versions, and if you're not familiar with some basic styles, now's the time to learn...
Panama Hats

Panama hats are great summer hats for light-colored summer suits. Sometimes mistaken for
stetson hats,
these tightly woven hats with the flat crown and relatively wide brim have a distinct shape that keep out the sun. Panama hats aren't just a classic style though, they will also last you for ages with the proper care. Traditional
Panama hats
have a ribbon detail around the brim. Humphrey Bogart helped make these hats famous, today many are carrying on the tradition.
The Fedora Hat

The mens fedora is undeniably one of the most stylish mens dress hats a man can wear. Fedoras have a teardrop shaped crown with a pinch on both sides, and are most common in black, tan, brown, or gray. While fedoras fell out of popularity in the 60's & 70's, they've made a
major comeback
in the past few years.
The Homburg

The homburg is a stiff felt hat that has a crease along the length of the crown and no pinches. Popularly referred to as the "Godfather Hat," this hat has been made even more popular by gangster films and a generally tough appearance. These hats, with wide grosgrain ribbon trims and an optional feather, were catapulted into popularity by the rap scene of the '90s, including Snoop Dogg, P. Diddy, Tupac Shakur, and the Notorious B.I.G. Even now, you will be hard pressed to catch Detroit's own Rock/Rapper Kid Rock without one on.
Don't be afraid to try one out for yourself, mens dress hats are an accessory that can enhance your whole outfit.