Mens Fashion of the 1920s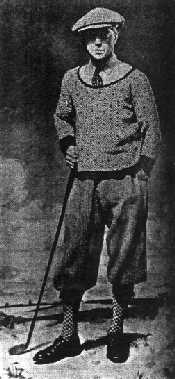 Looooong before the days of 3D TV technology and the iPad, mens fashion of the 1920s also in it's own way brought about some big changes in the world. Unlike the overly formal clothing men wore in the Edwardian era, they were able to relax and wear more comfortable clothing.
In its early stage, mens fashion of the 1920s, could be described as conservative. It took a while for men to accept the new fashions, but by the second half of that decade they were eager to experiment and try out new looks. Before World War I, upper-class men were expected to change from one suit to another depending on what time of day it was. Afterwards, men took a more relaxed look at life. Instead of changing from one heavy, fussy suit to another, they found simpler suits that met the needs of the entire day. As the decade wore on, lighter colors, fabrics and styles became the norm rather than the exception.
While men still wore suits on a regular basis, long jackets were now only used for formal occasions. Daytime brought out shorter suit jackets with higher waists, often worn with belts. Lapels were thinner and the jackets were worn buttoned rather high. This may have been due to an influence from the military uniforms of World War I. The trousers were straight and narrow legged, and were worn rather short. It was okay for the socks to show. Cuffs were starting to make an appearance at the bottom of the pant legs.
Mens fashion of the 1920s changed even more in the second half of the decade. Suit jackets were fitted to the waist in either a single or double breasted style. They were unpadded and lightweight. Fastenings went high onto the chest, arranged either as two or three single buttons, or in double rows. Trousers developed a crisp crease down the front, creating a striking silhouette. The crease remained even as trousers got fuller. Shirts had an attached collar, and were either in plain or striped cotton.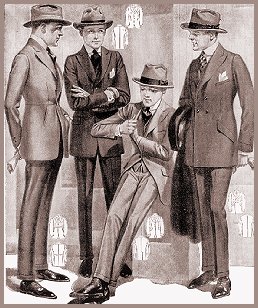 Colors were subtle for shirts and suits. Blues, browns, greens… light colors like cream, beige and tan were very popular. Knit sweaters and socks were much brighter. Accessories were important and made the man. Shoes were often two-toned or had a fringed tongue. Patent leather shoes were the most popular for formal wear. Ties and bow-ties were a necessary part of the wardrobe. Gloves were a part of an outfit, or were used for various tasks like driving. The well-dressed man never left the house without a handkerchief tucked neatly into his jacket pocket.
Hats were a requirement for every man, regardless of his station in society. Trilbies, bowlers, boaters and caps all had their place. Summer was for straw hats, boaters and skimmers. The difference between the different styles lay in the width of the brim. Winter
choices for headwear included the
fedora,
trilby or boater.
Mens fashions of the 1920s included a drastic change in fabrics. Instead of the heavy wools of earlier periods, tweed became very popular. Tweed is a hand-woven fabric made of wool that originated in Scotland. Flannel was another popular fabric of the time. Made of soft, comfortable wool with a slight nap, flannel was the fabric of choice for trousers in all types of weather.
WHAT INFLUENCED THE STYLE?
Much like today, popular figures had a big effect on the masses. Mens fashion of the 1920s was influenced by sports stars like Bobby Jones and Walter Hagen, two well-known golfers of the day. Football players like Red Grange influenced fashion in their own way as well, as did public heroes like Charles Lindbergh.
Golfing popularized knickers. Known as plus-fours, plus-sixes or plus-eights, these baggy, comfortable short pants became very popular. The plus name referred to how far below the knee the fabric hung, before being secured around the leg. Topped with loose, comfortable sweaters, this new casual look gave men a lot more freedom. Some men wore Norfolk coats with their knickers. These coats had large patch pockets, a belt and sometimes a shoulder yoke.
Knickers, in turn, influenced another fashion change. College students at Oxford were forbidden to wear knickers, so they wore long trousers with wide legs. The legs sometimes measured 22 to 40 inches around at the cuff. These "Oxford bags" could be easily worn over the top of the forbidden knickers. It didn't take long for these wider trousers to catch on elsewhere.
Football players like Red Grange influenced the types of coats people chose to wear. The infamous raccoon coat became a collegiate stereotype, although others wore them too. Camel hair polo coats were also a popular item. Charles Lindbergh's leather driving jacket became another fashion craze.

---
Mens Fashion of The 1920s Led To Some Really Cool Hat Styles

The Finest Suit Fabrics of Today's Fashion

Mens Fashion Tips for Today's Fashionable Man

Custom Made Suits Can Mimic Mens Fashion of The 1920s

Men's Grooming Tips

How To Wear Cufflinks

VISIT HOME PAGE