Mens Linen Suits
Mens linen suits have been around for quite awhile now, linen has a long luxurious history. As a senior statesmen in the world of all-natural fibers, linen naturally has a fair amount of tips and basic rules of thumb in regard to its proper wear and care.
Most guys are more familiar with linen shirts for men, but that same exact breezy comfort level can be captured in mens linen suits!
In South America and the Mediterranean, linen suits have enjoyed a long history as the mark of the vacationing man. A fine linen suit marks its wearer as that rare gent who is able to not onlyappear classy and at ease, but attract the attention of the ladies with his suave sense of style as well. They are great for tropical island weddings, beach weddings and vacation relaxation even in summer's most scorching months.


Most Popular Linens & The Advantages Of Them!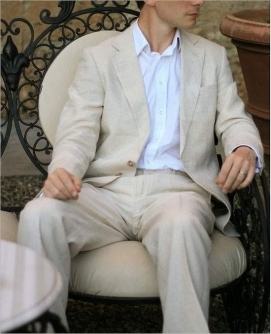 The two highest-regarded types of linen used in the making of linen suits and blazers are Italian and Irish linen. Often used in linen shirts for men as well. Irish linen has more history to it and is often considered the superior of the two because it is a bit heavier and therefore doesn't wrinkle as easily.
Being that linen is mainly a warm climate fabric, most fashion experts will contend that its best to wear these fine garments between Memorial Day and Labor Day. Linen suits are light and resist moisture which makes them perfect for men who sweat alot. Another great bonus is that they are machine washable so you can save money on your dry cleaning bill!