Necktie Storage Options
Necktie storage may not be the first thing to come to mind for many people. But for those sartorial enthusiast who care about the details and protecting their fine clothing, this is something to pay attention to. Storing ties in a protective environment adds to the life of your fine garments and helps you save drawer space. So we have chosen a few of the better options to choose from for your extremely well-dressed benefit!
NECKTIE RACK & STORAGE OPTIONS...
1.LIGHTED ROTATING TIE RACK
The rotating necktie rack is excellent for organizing and storing your neckties. This wonderful closet organizer can hold up to 64 neckties and eight belts. Simply push a button and this necktie-o-matic turns both clockwise and counterclockwise making it easy to find the tie you're looking for. This necktie rack rotates smoothly and lights up when it revolves to help you see in the dark if needed.(Light shuts off automatically after 10 seconds.) Mount this beauty securely on closet rods of all diameters, absolutely no tools required. You can free up drawer space with a bit of flair!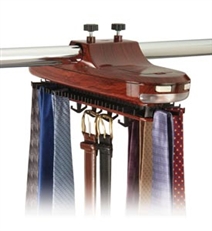 2.THE AMAZING TIE WINDER by NECKTIE ACCESSORIES
These clear plastic storage devices are the easy wrinkle-free way to travel with neckwear! Forget about ironing your ties ever again. Just pack your neckties right with your luggage, your silk ties will keep that impeccable, just-pressed look and feel. Use the Amazing Tie Winder to store your neckties year-round, avoiding damage and creases from hangers while maximizing storage space. These little babies are super-compact and convenient!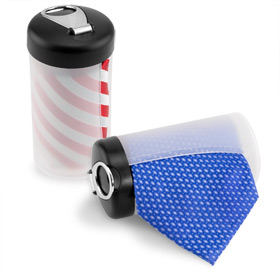 3.WALL MOUNTED TIE ORGANIZER
Keep up to 30 neckties tidy and organized with this wall mounted tie rack! This necktie storage rack easily mounts to your closet wall or under ashelf. Simply affix the rod,and then hang ties and scarves from the removable hangers. When it's timeto get ready for work(or play), you'll find your ties easy to reach and easy to put away! The chrome bar provides ample space in between ties, preventing wrinkling. Hardware is included. Extends approximately 2 inches from wall to give your neckwear plenty of room.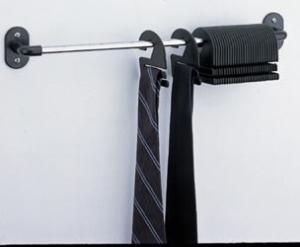 ---
4.TWIRL A TIE
No more crumpled, rumpled ties! The perfect solution for hanging your ties, keeping them neat and unwrinkled. Requires no batteries or installation. Just fill with up to 20 ties, hang in your closet, and enjoy knowing your tie selection is just a twirl away!